Nouryon showcases its curative system which includes Nouryact® CF12N copper-based accelerator.
In recent years, Nouryon developed novel Cobalt-free accelerators for thermoset applications, based on copper, iron, and manganese (read more about our Cobalt-free products). These innovative developments address potential human health concerns associated with cobalt carboxylates, as well as present applications advantages in certain applications such as bio-based fibers for reinforcing purposes. The latest project in a consortium including Nouryon was a bio-composite bridge built in The Netherlands.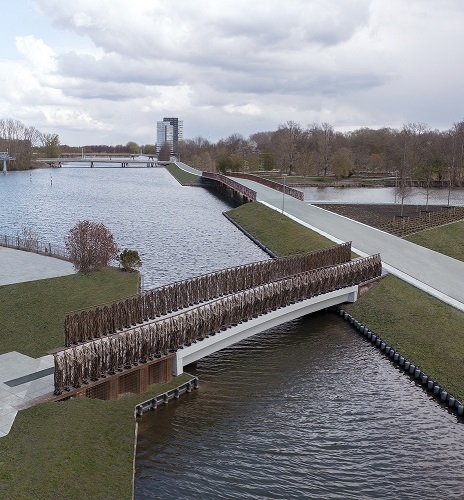 "Smart Circular Bridge" in Almere, the Netherlands
In addition to our Nouryact® product line, our technical team is excited to talk to you about our other brands: Cadox®, Butanox®, Trigonox®, and Perkadox® peroxide. Interested in our offerings for the Thermoset industry, read more here. If you have any questions, please contact your local Account Manager or email us to get started. It would be our pleasure to set up a meeting with you and your team!
Better yet, come and join us at our CAMX booth number U68 from October 17th to 20th in Anaheim, CA for additional technical and commercial details. Our keynotes speakers will be giving 2 presentations at this event, details below. Make sure you note down the presentation(s) of your interest and join us.
Date
Time
Presentation
Presenters
October 18th
1-4pm
A Guide to Safe Handling and Storage of Organic Peroxides for the Composites Industry
Gina Butuc and
Roel Zuijderduin
October 19th
3-3.25pm

New Generation of Accelerators Addressing Human Health Concerns and Enabling Renewable Composites
Gina Butuc
For more information about CAMX 2022 visit the event website.